Character
Characters come in three varieties in Highlands: heroes, recruitable characters, and enemies. Characters will interact and develop alongside players throughout their journey. They are all named characters who level up, experience events and fight.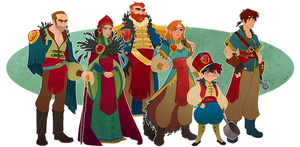 The Arislaan family are the heroes.
There are 4 character classes to help in the war effort. Each character classes has points in a primary stat and in the Combat points stat.
The swarmbots are a sea of metallic blades and fangs and the first line of attack in the invasion. Nobody knows where they come from or why there's so many of them. The invaders proper are raiders coming from an unknown Highland. Their motivations are obscure and they are lead by powerful leaders.